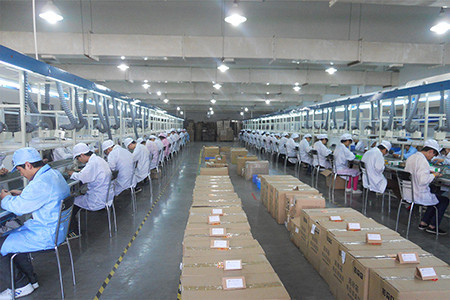 Shenzhen Flamingo Technology Co., Ltd. is a high-technology enterprise.
In the past
20 years, it has focused on the development, production and sales of environmental monitoring, temperature and humidity measuring instruments and animal physiological information telemetry equipment. It has applied intelligent measurement and control technology to the Internet of Things. Provide intelligent AI
breeding
information equipment for modern agriculture. Our products are professional and serialized which can be safely used in extremely harsh environments. We are an angel
enterprise
invested by China Merchants Group, HK which ranked 280th among the world's top 500 companies. We are also providing products for international famous brands such as Haier and Whirlpool, and also a supplier of Huawei's IoT client.
We have thousands of square meters of fully functional and well-equipped microelectronics manufacturing industry base and R&D centers.
PhD, masters, and graduates with bachelor degree or above account for 30% of the total number of employees. We have mastered many key technologies and obtained dozens of international & domestic invention patents and utility model patents, and many awards have been won from the National & Ministry of Industry Innovation Competition.
Adhering to the philosophy of cherishing the environment and caring for health, we continue to provide customers with innovative products and technical services integrating intelligent measurement and control with the Internet of things.
—FMG brand interpretation
Among the colorful and beautiful nature, there is a kind of bird that is unique in nature and grows on the African continent. The feathers are bright red in the sun and very beautiful. In the world of birds, it is a well-deserved flamingo that is as elegant as a lady, wearing a crown full of gemstone pearls. Flamingo is derived from the transliteration of the English "flamingo", which means that Flamingo Technology Co, Ltd fly in the morning sunshine to decorate the colorful world.
-- our mission
Perception of life, precision breeding
-- our vision
Become a big data service provider of animal breeding and health
-- company address
3rd floor, Beikechuangye Building, No. 1077 Nanhai Boulevard, Nanshan, Shenzhen, China.
Web: www.fmg-tech.com
email: sales@fmg-tech.com
Telephone: 0755-26925958
Name:

Vincent
Tel:

00-852-53483381
86-755-26925958
86-14714923381
Skype:
Address:

Room 310, 3/F, Beikechuangye Bldg, No.1077 Nanhai Blvd, Zhaoshang of Nanshan, Shenzhen, Guangdong, China